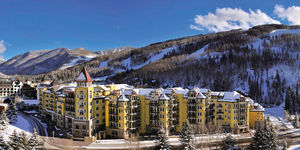 In addition to a white-hot single family housing market in Vail and Beaver Creek, Colorado, condominium sales within the area's luxury hotel and resorts are similarly demonstrating growth. Investors are showing confidence in the future of the Vail and Beaver Creek Resort areas with their investment dollars and the most recent acquisition was by Dalllas-based Ashford Hospitality Prime Inc. The company spent a record $145 million to purchase the Park Hyatt Beaver Creek. Vail & Beaver Creek are considered critical markets due to the area's accessibility to major cities, international airports, year-round recreational activities, and of course, the incredible beauty. When a hotel property changes hands, there is often a large-scale renovation that takes place shortly thereafter, keeping the local economy buzzing and contributing to keeping Vail and Beaver Creek Resorts on top.

A $145 Million Purchase in Beaver Creek

The $145 million sales price for the Park Hyatt Beaver Creek averages about $766,000 per room, which is a local record. The Dallas company completed its purchase of the premier 190-room Park Hyatt Beaver Creek Resort & Spa to further their strategy to own luxury hotels and resorts and further diversify their portfolio by establishing a presence in the highly sought-after Vail Valley market.

A sample of Ashford Hospitality Prime Portfolio of Hotels:

Pier House Resort & Spa – Key West, FL
Courtyard San Francisco Downtown Hotel – San Francisco, CA
Courtyard Philadelphia Downtown Hotel – Philadelphia, PA
Bardessono Hotel and Spa – Yountville, CA
Ritz-Carlton St. Thomas

The new, "Hotel Talisa"

In 2016, it was announced that Vail Cascade Resort and Spa at the Vail ski resort had been sold and would undergo a 35 million dollar renovation, reopening as the "Hotel Talisa" in 2017. Los Angeles real estate developer, Laurus Corporation, bought the 292-room hotel from Lowe Enterprises for a total sale price of approximately $90 million. Construction is underway to redesign the resort, adding new dining, luxury retail outlets, and valet ski service options. 45,000 square feet of meeting room space and the 78,000-square-foot athletic club will also be updated. Improvements are expected to be completed in time for the 2017/2018 ski season.

Based on the recent number of resort-hotel sales taking place within the Vail Valley, the area is well-positioned for continued growth and a stable economy.