Malia joined Tricia Swenson on February 29th, Leap Day, on Good Morning Vail to talk about a different area of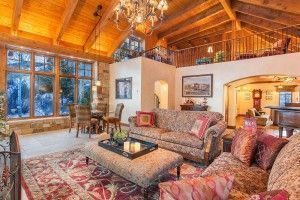 Vail Valley than her previous appearances, Cordillera. Cordillera is comprised of four areas (The Valley Club, The Ranch, The Divide, and the Summit.  Malia feels that if more people know about some of the amenities available both in Cordillera as well as options at the resorts of club amenities, many people would consider Cordillera more seriously that otherwise feel they must be in Vail or Beaver Creek.  before they make their purchase that they would consider buying in Cordillera.
The nearly 7,000 acre community is tucked back in the hillside and many simply aren't aware of how incredible Cordillera truly is and how well it can work to own a home in this area in conjunction with in resort club memberships and/or parking making it easy to enjoy the resort activities such as skiing and snowboarding.
Malia currently has 3 Cordillera properties listed including the luxurious residence at 382 El Mirador.  This is a 9,000 square foot home.  Malia notes that the potential buyers should not worry about the size as the home is so well built and efficient that the expenses much more resemble smaller residences in the Vail Valley.  This new construction home has sweeping vistas and a very Tuscan oriented feel to it mirroring much of its style after estates you would see on the hills in Italy.
A unique feature of the great room, which truly is the heart of the home, is a wood-burning fireplace.  This is something not often seen in a newer home and really feels like a mountain home in Colorado.  There is a contemporary feel to the home as well with the truss work and angles.  This custom home is the full-time residence for this family and they wanted it to be both "homey" and functioning for day-to-day living as well as a great home for entertainment.
If this whimsical 6-bedroom home were to be located in Vail then it would easily be a $20 million home, but instead it is only $3.4 million in Cordillera with all the amenities of the area.  Join one of the clubs in Vail and Beaver Creek to bring the convenience of skiing to your home and make this residence a must see on your list before purchasing your Vail Valley home.
Cordillera is a beautiful neighborhood community with a lot of amenities that also has great proximity to both the Vail Jet Center and Eagle Airport.  Vail Ski Resort is only about 20 miles away and the Beaver Creek Resort is about 10 miles away.  Cordillera is minutes from the Riverwalk Center in Edwards where you can take in a movie, go shopping, or dine at restaurants such as Juniper or E-town.  The views from that vantage point up here are incredible, you feel like you are at the top looking down.  It has isolation from I-70 and you can be both remote and also have proximity to everything.  You can enjoy all the amenities but still be tucked away in the mountains.
This is much more affordable that other parts of the valley with beautiful newer construction, often on larger lots and you are getting more for your money.  Often people do not realize that there are such amenities to bring the skiing in to this area as well conveniently.  Cordillera has the Vail Gondola club at th
e top of Bridge Street next to Gondola One and you can stop and get a snack and a drink, pop on your skis, and go. At the end of the day there is someone there to help get your skis from you and you can grab a glass of wine and sit in the hearth room and it really is so convenient.  These types of resources do exist throughout Vail and Beaver Creek to keep it convenient for those who live 10 to 20 miles from skiing throughout the valley.  Within Cordillera there are all sorts of amenities including four world-class golf courses, and Camp Cordi for kids and grandkids.  Malia and her family have been members of the Cordillera Club for years and she really feels it is a special place here in our valley.
To watch the full cinematic tour of 382 El Mirador , click Here.  To learn more about this property and area of Cordillera, please visit cordilleradivideluxury.com or contact Malia Cox Nobrega 970.977.1041 [email protected].
Malia Cox Nobrega Vail Luxury Broker Appears on TV8 Good Morning Vail, Luxury Home for Sale 382 El Mirador, Edwards, Colorado