1770 BEARD CREEK TRAIL
Cordillera Valley Club, Edwards, Colorado
Bedrooms 6
(Including 2 Bedroom Lockoff)
Bathrooms 6
Sq Ft 7,241
$4,750,000
SOLD 12/03/2020 FOR $4,555,000
The Story of the Residence
"We knew that the moment we walked out onto the lot we were going to have to build a special house here." That's how owners and long-time valley residents Tim and Terry Benedickt described their meticulous search for what would become 1770 Beard Creek Trail. It was one of the few sites within a gated community that provided an encompassing vista of Vail Mountain, the Sawatch Range, and Cordillera Valley Club course.
While there is a settled sameness to many luxury mountain homes, 1770 Beard Creek immediately makes a more distinctive impression with a floorplan and flow that is at once truly unique, yet completely comfortable. And, by design, its versatile architecture can hold a palette of styles from contemporary, to traditional, to mountain west. Where floorplans tend to jumble in the mind, 1770 remains memorable both in valley views and light that dances through its unique facets throughout the day.
One of the simplest details encapsulates the remarkable essence of the home. It's the arch of handcrafted lights over the dining table that Benedickt created (his custom metalwork is found in luxury homes throughout the Vail Valley). Exemplary of the home itself, the chandelier exudes an elegance that is balanced with a bit of modern flair, tailored proportionality to the lights which cast a warm glow on the dining table and those gathered around it.
From hand-drawn sketches on notepads, to architectural drawings, and finally to the hands-on aspect, from literally sitting behind control handles of an excavating backhoe, framing, and fitting of custom cabinetry, the Benedickt's vision took two years for them to personally build.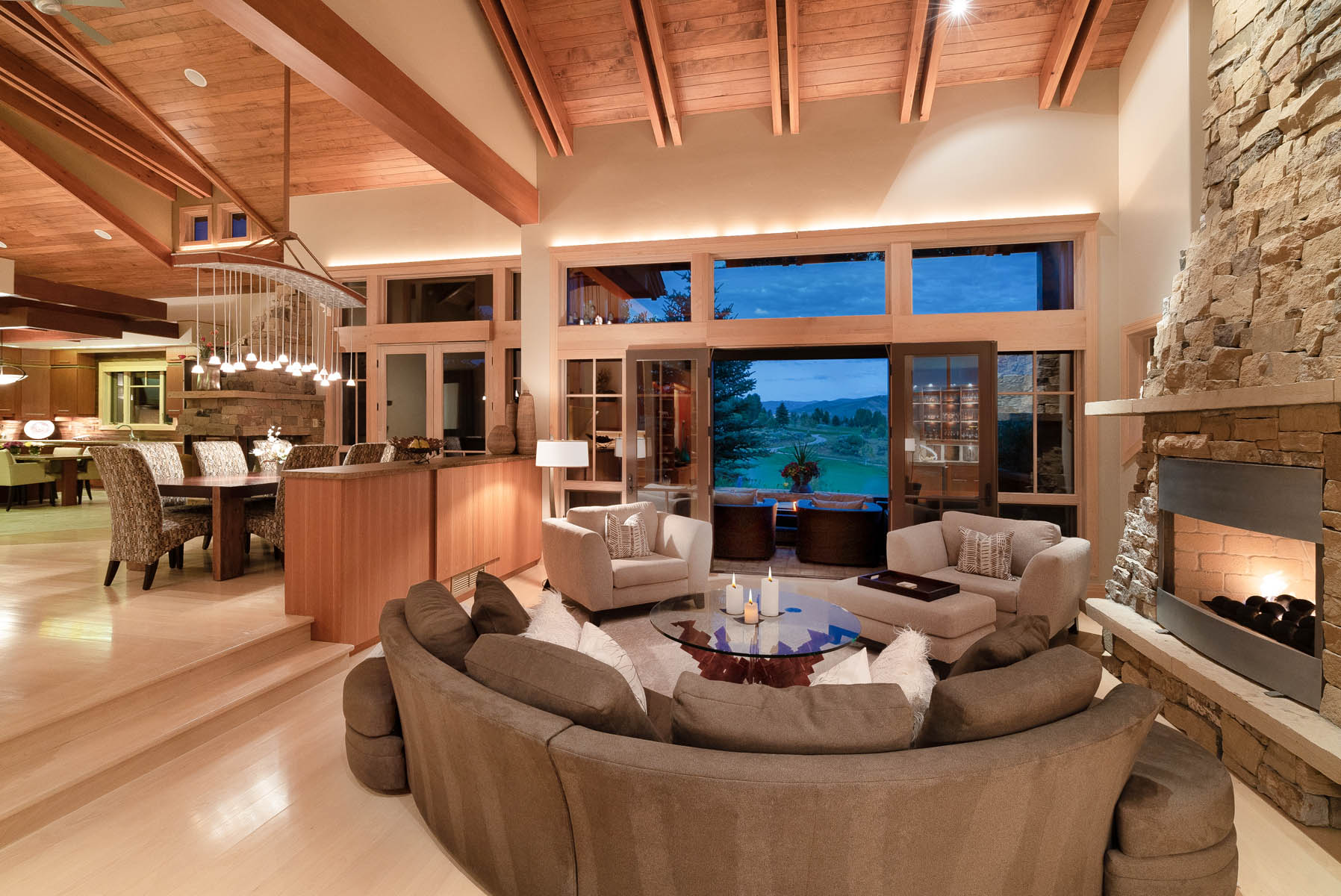 Walking under a double stacked arched portico of copper, and through the glass paneled front entry door, Benedickt starts to answer the question why this home feels very different that most other luxury properties in the area, "There was a great deal of thought but more importantly, a ton fun put into designing a home that followed the land contours. While you won't initially see it, you'll feel something different immediately. Why? Many of the walls are not parallel and some are seventeen degrees different to create a sense of expansiveness, but with a gentle flow into more intimate spaces. It just feels right."
Benedickt laughs, "A friend of ours described our home as timeless contemporary. When we built it, it seemed that the style of custom homes here was all about looking like a grand mountain lodge. On trips to Italy I was always impressed with Tuscan architecture and, in designing the exterior, channeled those impressions, while still honoring the Rocky Mountain vibe. And while Terry and I lean toward contemporary furnishing, the beauty of this design is that it's so adaptable."
Exploring the Benedickt's home, one discovers touches that come from their years of experience as mountain homeowners. For instance, there are no decks that require on-going maintenance. The outdoor stainless steel spa perfectly set within the terrain channels feelings from natural hot springs found throughout the mountain west. The panoramic view from the expansive eastern outdoor living area is complemented by a private patio on the west side of the house so that one can have sun – or shade – any time of the day. Embraced is the magic of Colorado nights, with soft cove lighting throughout the home and subtle uplighting amidst the landscape and patio areas.
"Two years of meticulous attention to detail and a genuine love for the process paid off," says Terry, as she selects a bottle of wine from the distinctive cellar, created with an arch to immolate a wine barrel and featuring copper arches. Tim is at the island laying out hors d'oeuvres on the kitchen island getting ready for guests. Even with its' soaring vault ceiling, the geometric dimensional squares of beams below create a sense of intimacy. Outside the window, the afternoon shadows are getting longer and a doe with two younger fawns work their way down onto the golf course. The Benedickts smile at the sight, not uncommon. With a sense of completed satisfaction Tim says, "This house has been a wonderful chapter in our lives, but as we've always planned, it's time to downsize and travel more."
And for the next fortunate owners of this near flawless mountain gem, there's an added benefit — the artist and its creators will happily advise them on all the nuances and operation of the home. Training wheels, if you will, for getting the most from this extraordinary property.
Click here to take a Matterport virtual tour of the apartment and here for a video.
5TH FAIRWAY, TOM FAZIO DESIGNED COURSE


2-BEDROOM CARETAKER SUITE/APARTMENT (only 3 allowed in CVC)

3-CAR GARAGE

INDOOR/OUTDOOR LIVING

MASTER BEDROOM AND BATH WITH TWO WALK-IN CLOSETS

WOOD FINISHES INCLUDING BEECHWOOD, WORMY MAPLE, WHITE MAPLE, DOUGLAS FIR, BAMBOO AND CHERRY

DUAL SIZED FIREPLACE

WINE CELLAR

YOGA/FITNESS ROOM

STAINLESS STEEL HOT TUB

HEATED PATIOS

HYDRONIC IN-FLOOR HEAT

AIR CONDITIONING

WATER FILTRATION AND PURIFICATION

CENTRAL MUSIC AND LIGHTING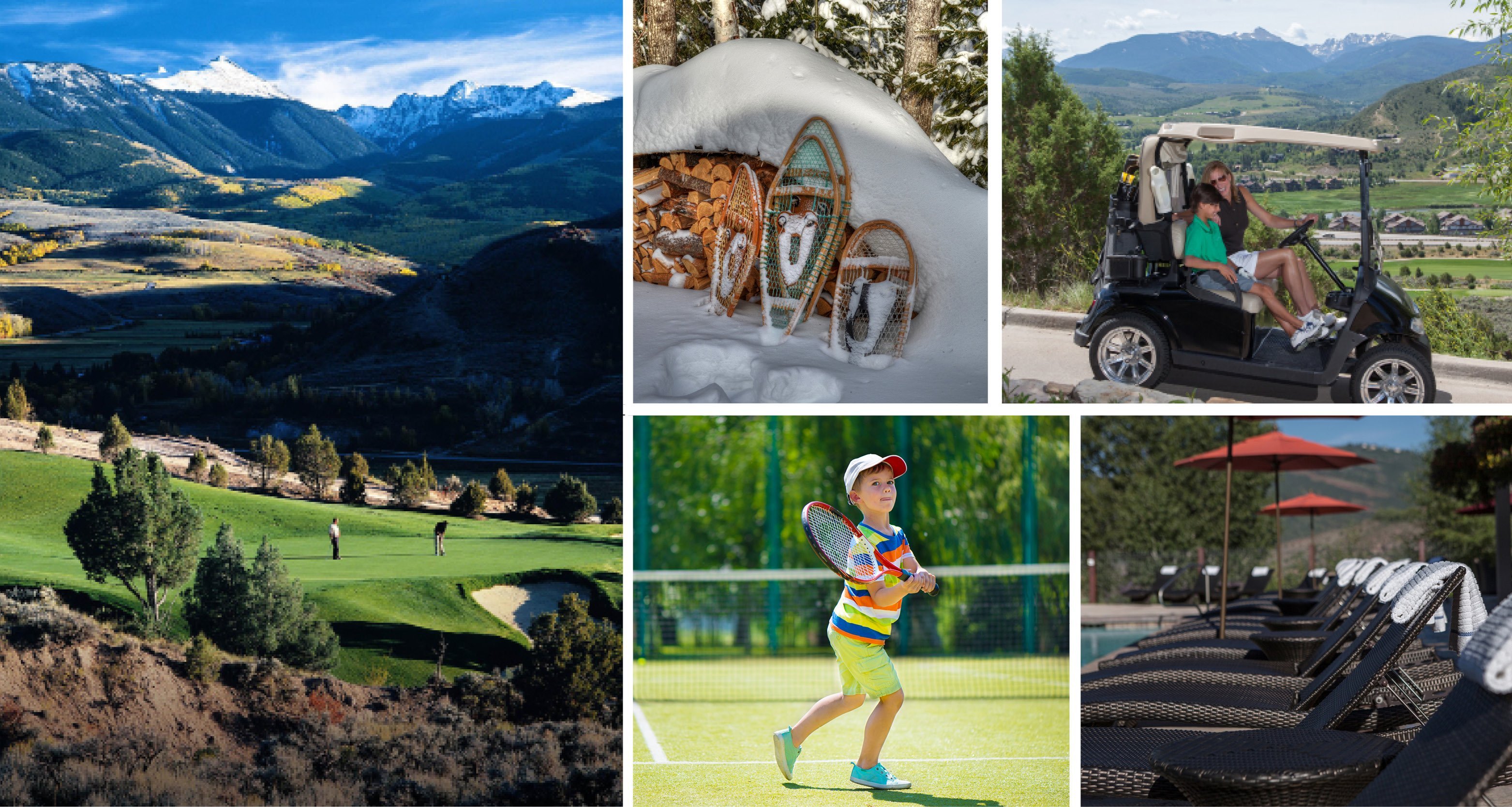 About the Cordillera Valley Club Neighborhood:

Dramatic views of ski slopes views, Lake Creek Valley, the snow-capped peaks of the Sawatch Mountain Range combine to create the high mountain desert setting for this gated community. Homes here rely on stone, rough-sawn wood siding and covered porches to convey their western personalities but also with a more current and mountain contemporary flare than other areas. The Clubhouse, built from stone and wood, exudes a rugged yet elegant atmosphere enhanced by sun-drenched terraces and a beautiful pool that overlooks the Valley club Golf Course. The Valley Club Restaurant is a casual grill, all with a social membership to the club gathers a host of amenities to create a coveted lifestyle. Located at a lower elevation, The Cordillera Valley Club offers outdoor enthusiasts a longer playing season than other area golf courses. Whether it be at the club's swimming pool, tennis courts or the Tom Fazio-designed golf course homeowners enjoy the private road that allows for use of private golf carts within the area roadways. Just 10 minutes from the villages of Vail and Beaver Creek, you are close to skiing, snowboarding, shopping, restaurants, and cultural activities. The close location to the Edwards Town Center, easy access to Vail and Beaver Creek, as well as a quick jaunt to the local airport and jet center make this an ideal location choice for many Vail Valley Primary and Second homeowners.
Cordillera Information & Links:
Cordillera Overview Cordillera Community Cordillera Amenities Cordillera's Great Outdoors The Vail Gondola Club The Club At Cordillera (golf and social memberships available)
Cordillera is an exclusive 7,000-acre gated community located on the hillsides of both the north and south sides of Edwards/Interstate-70. Cordillera is Vail Valley's elite golf community known for its world-class golf courses, tennis, hiking, equestrian center, fishing, bike riding, skiing, fitness facilities, and Cordillera Lodge and Spa. Cordillera has four distinct neighborhoods, The Valley, The Divide, the Ranch and the Summit. The Valley is the only area located on the north hillside of Edwards and the remaining three are located up Squaw Creek Road on the South side of the Valley in Edwards. Edwards is conveniently accessible by both Denver & Vail/Eagle airports. Edwards is approximately 100 miles from Denver International Airport and 30 miles from Vail/Eagle Airport this location has access unsurpassed by other Colorado resort areas making it easier for its owners to take advantage of their second home. Although Cordillera has many second homeowners in the area, there are also many full-time local residents, and second homeowners that spend months or seasons at a time in the area. Cordillera offers larger home sites and newer homes and estates than is available in much of the other areas of Vail Valley. The pristine nature of the Cordillera land is accented by picturesque views of valleys and mountain peaks and home to wildlife that herd through the areas. Cordillera attracts people that wish to take advantage of the summer months just as much as the winter. In addition to that, the homeowners in Cordillera are able to get more for their money in terms of both land and home. The price per square foot is significantly lower than if you were to purchase directly in the villages of Vail or Beaver Creek. This means that for the same cost, when purchasing in Cordillera you are able to get a larger, more private lot with a lot more square footage. Being close proximity to both Vail and Beaver Creek, Cordillera agrees with the lifestyle of one who wants pristine nature and vastness of land but also like close proximity to all the amenities of the Vail Valley.Most known for its world-class golf courses, Nicklaus, Irwin, Fazio and Pelz combine their renowned design skills to create challenging and beautiful golf courses that sets the Cordillera Club and community experience apart from any other in Colorado.