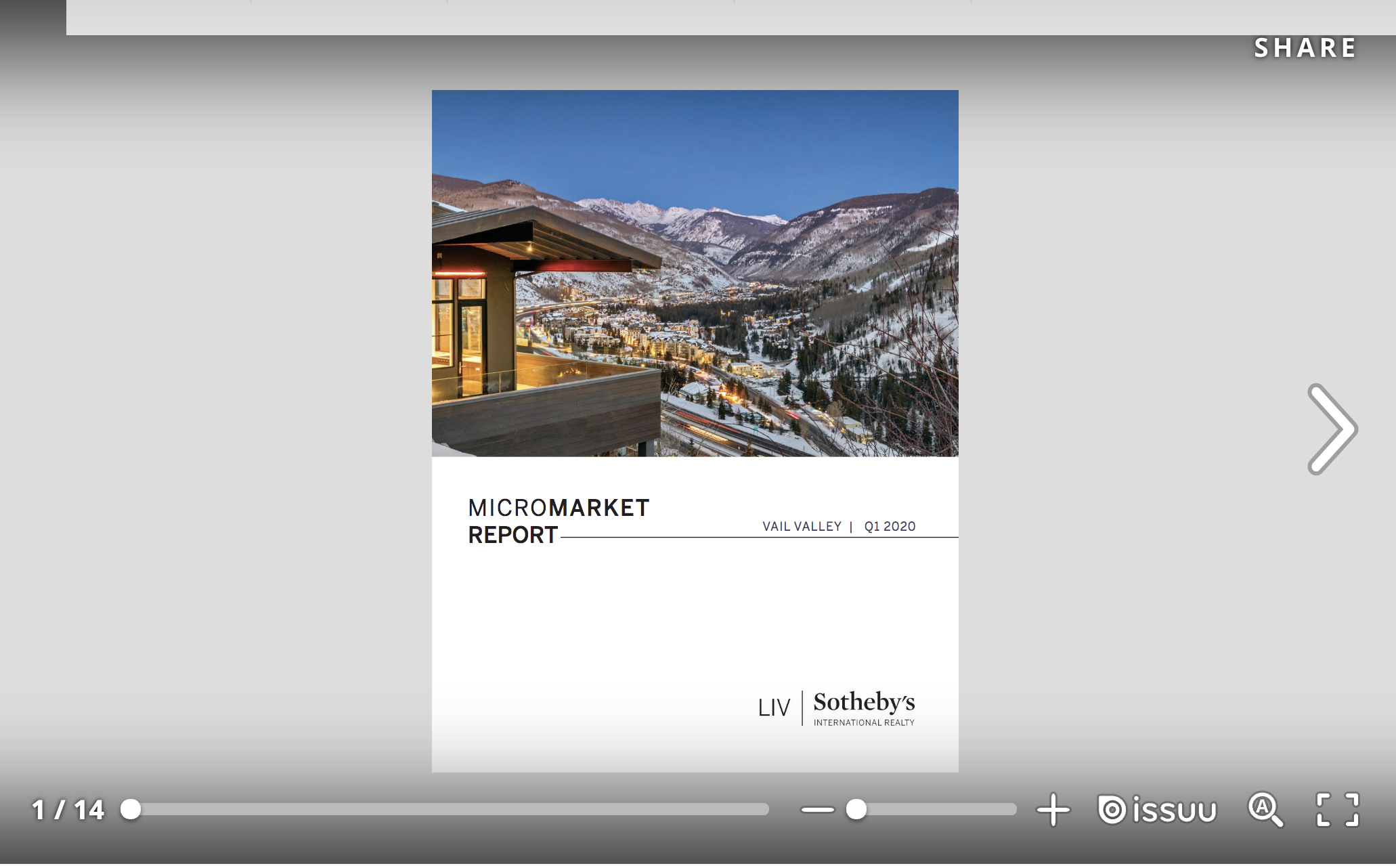 Predictions for the Vail Valley Real Estate Market in the Era of Covid-19.
Is COVID19 going to create similar market from the 2008 Market Crash?
I have been repeatedly asked, what do you think will happen to the luxury real estate market in Vail and will it be as bad as 2008?" My response is that I genuinely do not think we are headed for a repeat of the 2008. The great recession from the stock market crash of 2008 rocked the wealthy in the United States both financially and emotionally. Wealthy people with multiple homes were beginning to rethink their life choices and ask questions like "do I really need a second or third home." That mentality was painful for the second homeowner real estate market in our area. The economic boom that preceded the crash of 2008 was a "house of cards" that caused home prices to soar before it came crashing down and taking major businesses with it. Conversely, in February, our economy was strong going into this crisis with genuinely set real estate values.
First Quarter Vail Valley Market Impact & What is Expected In The Second Quarter
The first quarter of the Vail Valley residential real estate market amid the era of COVID-19 shows relatively mild impact. Given that the coronavirus pandemic didn't start impacting the market heavily until early March, the major "hit" is expected to surface in the second quarter figures. The Vail Valley real estate market decline began in full force in March right around the time that our Governor indicated that people should consider no longer traveling to the high country of Colorado due to COVID-19 outbreaks. Eventually, Vail Resorts made the tough decision to shut down the resorts for public health reasons. As it turned out, those decisions, along with others, have really helped us get through this faster and healthier than many other parts of the United States and the world.
Eventually, the Governor instituted a stay at home order that disallowed anything not deemed critical. For real estate, this meant that if it wasn't in pursuit of closing a pending agreement already under contract, we couldn't show homes to buyers. So almost no buyers were in Vail and the buyers that were here were not allowed to view the homes in person. Additionally, through this crisis, most people have been on an emotional rollercoaster swinging from panic to optimism and back again. As you might imagine, this dynamic resulted in most buyers putting an indefinite hold on making real estate purchase decisions. Given that the high end real estate market in our areas is primarily a second homeowner market, none of the purchases are really necessary purchases but rather are quality and enjoyment of life purchases.
Why do I feel the Vail Valley is likely to bounce back better than most areas given these circumstances described
The Vail Valley Is A Great Place to Be During This Crisis and Beyond
Well, the cloud is beginning to lift and the pause on life is starting to move in a direction of resuming here in Eagle County (but with baby steps). We are just days from "opening" to a new normal and there is a light at the proverbial end of the tunnel. I am hearing repeatedly from clients and friends around the world that they wish they were here at their Vail Valley home and that they feel it would be such a great place to be with what is going on. So many homeowners are hoping to be here for the summer after being stuck in whatever location they have been thus far. As someone who has ridden this out in Vail, I can tell you it has been pretty great under the circumstances. Nice walks, hikes, fishing, bike rides, golf all definitely help remove the gloom on the day.
Great Healthcare Available and COVID-19 Preparedness
More than anything we have the comfort from such a great health care system that has been all over getting what we need to stay safe as a community. There is significant testing available for anyone with symptoms and available tests to contact trace out. This is what kept South Korea so much better off than much of the rest of the world as they had tests for this process early on in the crisis. We are also especially lucky to have a large abundance of COVID-19 available hospital beds and 26 ventilators (which is pretty amazing per capita). Not that we have needed any as they send those patients to Denver where there is lower altitude and a high level of experience with patients needing COVID-19 critical care.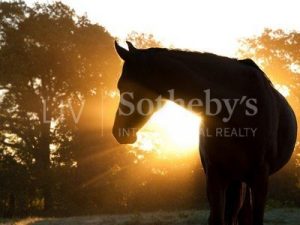 People Want to Be Safely Outside and The Vail Valley Has The Space Needed
The bottom line is that people are really feeling drawn to the notion of being in a location away from overpopulated areas with pollution and other urban challenges and are seeking areas like the mountains that seem to nurture the soul at a time that it is so needed. Imagine what it will be like when things start to resume amid COVID-19 for people that live in large buildings. The bottom line is an elevator ride is going to may become a pretty stressful thing and in many cities, you cannot reasonably take the stairs on the 80th floor.  Maybe leaving for the day can be integrated into your workout but it will be challenging.  The Vail Valley offers an incredible lifestyle in a smaller rural setting but it has numerous amenities and culture more often found in larger towns or cities. We aren't sure what will be open or how it will be open but we suspect socially distanced smaller events will take place. Bravo!Vail is still hoping to move forward with their music series and season so we await hearing what that will look like to promote a safe environment and to see what other events and programs might also look like this season. Even without these events (that will be missed if not possible) the outdoors in our area provides for great opportunities for fun involving very few interactions. It is also just nice to sit out and work or have dinner on a patio or deck with the beauty all around.
Remote Working Is Easy In the Vail Valley
This desire to be in the Vail Valley is now combined with the onset of the era of embracing remote working that makes our mountain town with great proximity and access to major cities and two airports, a great place to be. For quite some time it has been possible from a technological standpoint to remotely work for many positions and businesses but we are now shifting from possible to it being more desirable to work out of the office. I feel once the genie is out of the bottle on that many companies will never fully return back to their old models.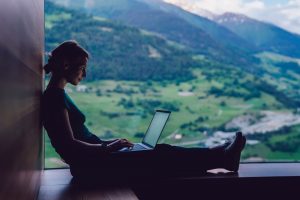 Remote Working Is Here To Stay
Many business owners will escalate and reevaluate their heavy "brick and mortar" business models. This shift to more permanently allowing expanded remote working was already slowly taking place but now we are likely to enter a hyper speed transition imposed by the necessity of this crisis. It is not only beneficial to provide the distance for employees' health but also to cut unnecessary costs at a time that this is critical to both survive and eventually to thrive. It also liberates the employees from needing to always be in one location and broadens the pool of talent for many positions. Office oriented businesses will focus far more on the quality of their office space in both location and style versus square footage and will learn to track productivity versus worrying about seeing an employee's face always in person. They will focus on bringing people to one location when it makes strategic sense versus being the default.
Some business people may have been once reluctant adopters of remote work technology are now being forced to learn to use these tools for survival and that knowledge will now build a foundation that will make the businesses more comfortable leveraging remote business tools once they are not absolutely required in a post COVID-19 crisis world.
This shift has already been taking place in our area over the last 3 to 5 years in ever increasing pockets. An example of that is that more families are moving to our valley for their kids to go to one of our private/charter school programs in order to provide a different quality of life and/or to participate in high level sports activities, such as the Vail Ski and Snowboard Club. Often one of the parents are able to remain in the Vail Valley full-time and the other spouse travels some for business but can still spend 3 to 5 days a week at their home in the Vail Valley. This dynamic will become even more plausible the more this possibility to work more often remotely sets in.
Remote Working Examples
Another example of this beginning to happen is a client that contacted me recently looking for a referral to a Denver real estate agent. He explained that his company has decided to move away from a regional office model and may allow people to live where they prefer. He explained that it has been a crazy benefit of this COVID crisis. Apparently his business already requires heavy travel so they decided it just made good sense given the circumstances we are in now. This client lives in…let's just call it a city that is considered a bit less desirable to some. He has expressed wanting to live in Colorado full time for quite awhile. This client has a second home in the Vail Valley that I sold him a number of years ago and he has been expressing his dream to move here full time. He plans to sell his home where the company has its base and will buy a condo in Denver, travel out of Denver mainly for work and spend as much time as possible in the Vail area.


One last, but very important, thing to note is that one of the things that makes the Vail Valley special is our high level medical facilities. We have state of the art healthcare for an area of our size and that continues to grow and improve by the day with the new vision being executed by Vail Health. If we need more than what Vail Health offers we are only 100 miles to Denver. This proximity is a huge benefit to people wanting to spend more time here with the ongoing health crisis underway and also makes our area more appealing for people choosing to spend a good deal of time here in retirement. Why not live in a county that is routinely listed as being one of the healthiest counties in the United States?
The Bottom Line
The bottom line is that Colorado, and particularly the Vail Valley, is a place that people enjoy being and that they can safely and comfortably be in terms of social distancing so a world where people are embracing remote working will really lend well to our area and other areas that are similarly desirable. We are truly a unique and beautiful place, with amenities, and proximate access to the rest of the country and the world via our airports.
So although I feel that we have a positive future for our area and our real estate market in the Vail Valley, I do recognize we have a tough road and we will feel the impact of this quite some time. Thank goodness that there are positive things that come out of every bad situation and I believe we are going to see (and already have seen) a surge in innovation, economies, and unexpected benefits that we will derive from this time.

Stay healthy and we hope to see you back in Vail and Beaver Creek soon. Feel free to send me your take on what you feel might happen to our Vail Valley in our post COVID-19 pandemic.