770 Potato Patch Drive #3, Vail, CO
Just Listed In Vail, CO
Experience this one of a kind "wow" residence that will convince you, once and for all, to give up the notion of packing yourself into a Vail Village and Lionshead alternative.  Choose this beautiful property with gorgeous sun and epic panoramic views of Vail and Beaver Creek ski slopes.   This lovely renovated townhome has views, views and more views from virtually every room.  The main living room stares both south facing to the ski slopes of Vail's Ski Resort and at the same time, westerly to Beaver Creek for the perfect sunset views all while sitting on your sofa next to the fireplace.  Don't give another thought to those long sunny summer days as air conditioning was added for optimal comfort year-round.
This home has incredible main level living and brings the outdoors in.  Walk-in from the coveted 2-car garage and in just a few steps you are dropping off groceries in the kitchen.  Enjoy a last minute snowshoe and then come home to soak in the perfect Aprés hot tub waiting for your return to bask in the sunset with a great glass of wine. Enjoy an elegant or casual evening with family and friends in the kitchen and dining area that creates a magical ambiance of firelight and another Vail Mountain alpen glow evening.  The kids can be upstairs in the media room watching a movie or playing video games.
The master bedroom is an oasis on its own level.  The owners renovated this for their full-time use which resulted in great closet space and creature comforts such as an additional washer and dryer in the master closet.  You won't miss the beautiful views even when in the master shower, commode, or closet, as there are five windows to bring the outdoors in even in these spaces.  Take an evening shower while the sun sets and let the gratitude settle in.  None of your guests will complain as each en suite guest room has equally magnificent views of the ski slopes that beckon them each morning.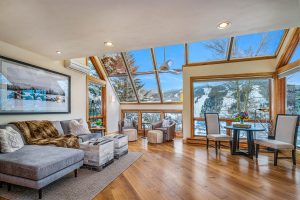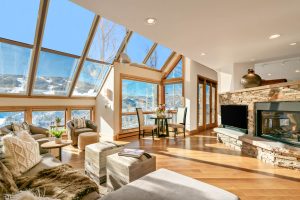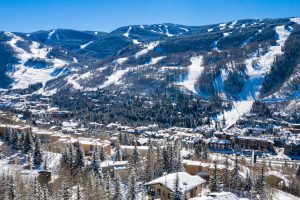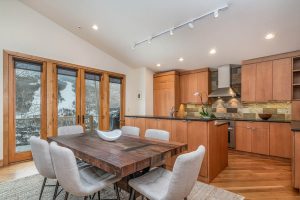 Situated only minutes from Vail, this home offers luxury and sophistication in the highly sought after neighborhood of Potato Patch. This residence is right near the entrance to Piney Ranch Road and National Forest (3/10's of a mile) and is ideal for accessing snowmobiling, cross country skiing, and snowshoeing in the winter to expand your winter activities beyond Vail Mountain. For summertime excursions, only 11 miles to Piney River Ranch for the best of camping, hiking, paddle boarding, fishing, canoeing and horseback riding.
This is what a Colorado mountain retreat is all about! The best of all worlds, ideal access to the amenities of Vail Village combined with the perfect access to one of the best locations that allows a wide variety of activities in the White River National Forest.
Link To Official Property Website for 770 Potato Patch Drive #3.