4872 MEADOW LANE
Vail, Colorado
SOLD on 07/02/20 for $4,400,000
Nestled in East Vail, this one-of-a-kind single family home was constructed to minimally impact and accentuate the surrounding natural beauty of the area. Backing up to a national forest with sweeping views of Bald Mountain, the tranquil seasonal stream provides the ultimate, serene backdrop for you to luxuriate in this Mountain Modern masterpiece. The residence is unmatched in its price point for quality of construction, location and luxury.
Designed by renowned local architect, Kyle Webb, the home's versatile layout serves the evolving needs of families. Kyle used natural materials and clean lines to achieve a mountain modern aesthetic while capitalizing on the landscape's beauty by adding floor-to-ceiling glass in all of the right locations.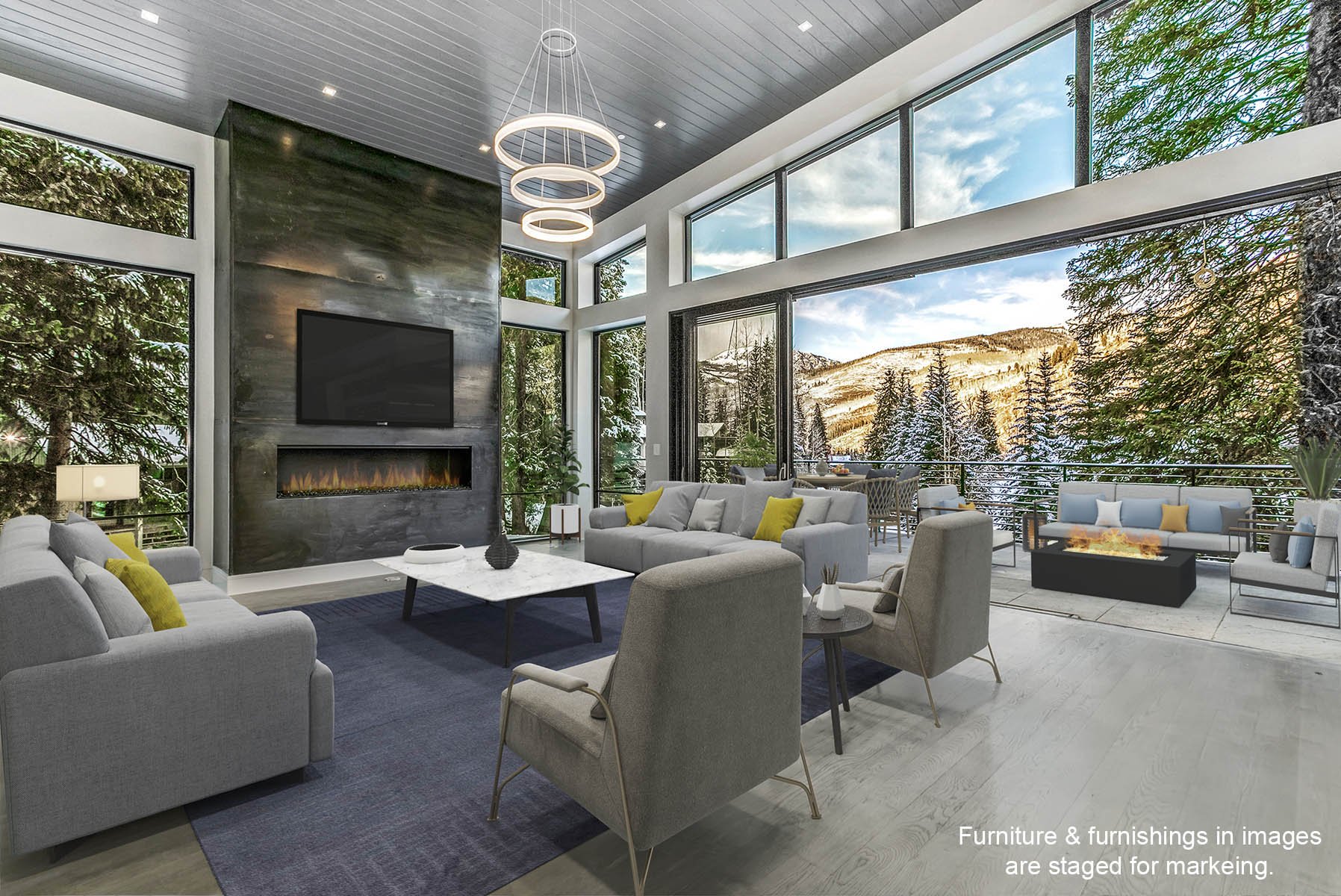 The heated driveway leads to the dramatic glass entrance featuring an elegant floating staircase that is an artistic feat. The stairs are composed white oak treads and steel to further compliment the mountain modern look. And as you head up or down the stairway, the enchanting views of majestic pine trees and the mountains in the distance are breathtaking. Leading from the staircase of the main level is the kitchen and main living room.
The main living room is drenched in natural light from the soaring glass and vaulted ceilings that are framed with wooden accents. Additionally, the living room boasts a steel floor-to-ceiling fireplace and also leads to the outdoor patio. Opening up to the heated patio are Wyland doors that fold like an accordion so that you may bring the fresh air in or entertain effortlessly from space to space as you take in the views of Bald Mountain.
The kitchen and living room glass wall uses cutting edge technology smart glass to switch from clear to opaque at the click of a button for added privacy. This is the new high tech, contemporary window covering. The state-of-of-the art kitchen also boasts Wolf and Subzero appliances as well as two dishwashers. Enjoy a a great bar area as well as a huge walk in pantry.
The main level master suite is situated in the back of the lot with its own spacious patio overlooking White River National Forest and the seasonal stream. Enjoy Colorado mornings with coffee on your private terrace while checking out the wildlife. The master wing is complete with a gas fireplace, wooden accent ceiling and a gorgeous master bathroom outfitted with a steam shower and walk-in closet. Even in the hottest months of the summer, you will be comfortable with a forced air conditioning system.
The lower level exalts great ceiling height and is designed around flexibility. Upon parking in your radiant heated and oversized 2-car garage, you enter into the large mudroom that is outfitted with gorgeous built-in, custom wooden lockers. Each locker is enclosed so that your gear is tucked away and remains tidy. Just beyond the mudroom is the family/game room complete with a bar and patio. This room can operate as another sleeping space when you have a houseful as there is a large three-quarter bathroom with a spacious shower. The bunk room on this level is totally unique as it has white oak bunk beds that are queen sized (two sets) for adults and kids alike. You could comfortably house four college age boys in this room or a houseful of kids would love to imagine this room as their fortress. This level is rounded out with a large laundry room, mechanical room that is sure to impress even the most critical eye, and a great additional storage closet.
A second master bedroom and two junior masters suites complete the upstairs. Each of the spacious junior suites have en-suite luxury bathrooms and floor-to-ceiling glass accentuating the majestic views. No guest will feel slighted no matter what room they are assigned.
Enjoy Gore Creek Trail, East Vail Falls and Booth Falls trail heads that are nearby for those looking for a quick outdoor escape. Or take in picnic, or toss a ball around the corner at the neighborhood dog park.
4872 Meadow Lane represents a luxury haven in the coveted East Vail neighborhood that has all that people expect when they come to the Rocky Mountains. This is an exciting opportunity to own a new construction, luxury mountain contemporary home for your family and friends to enjoy for years to come.
About the Developer/Builder - Paragon Homes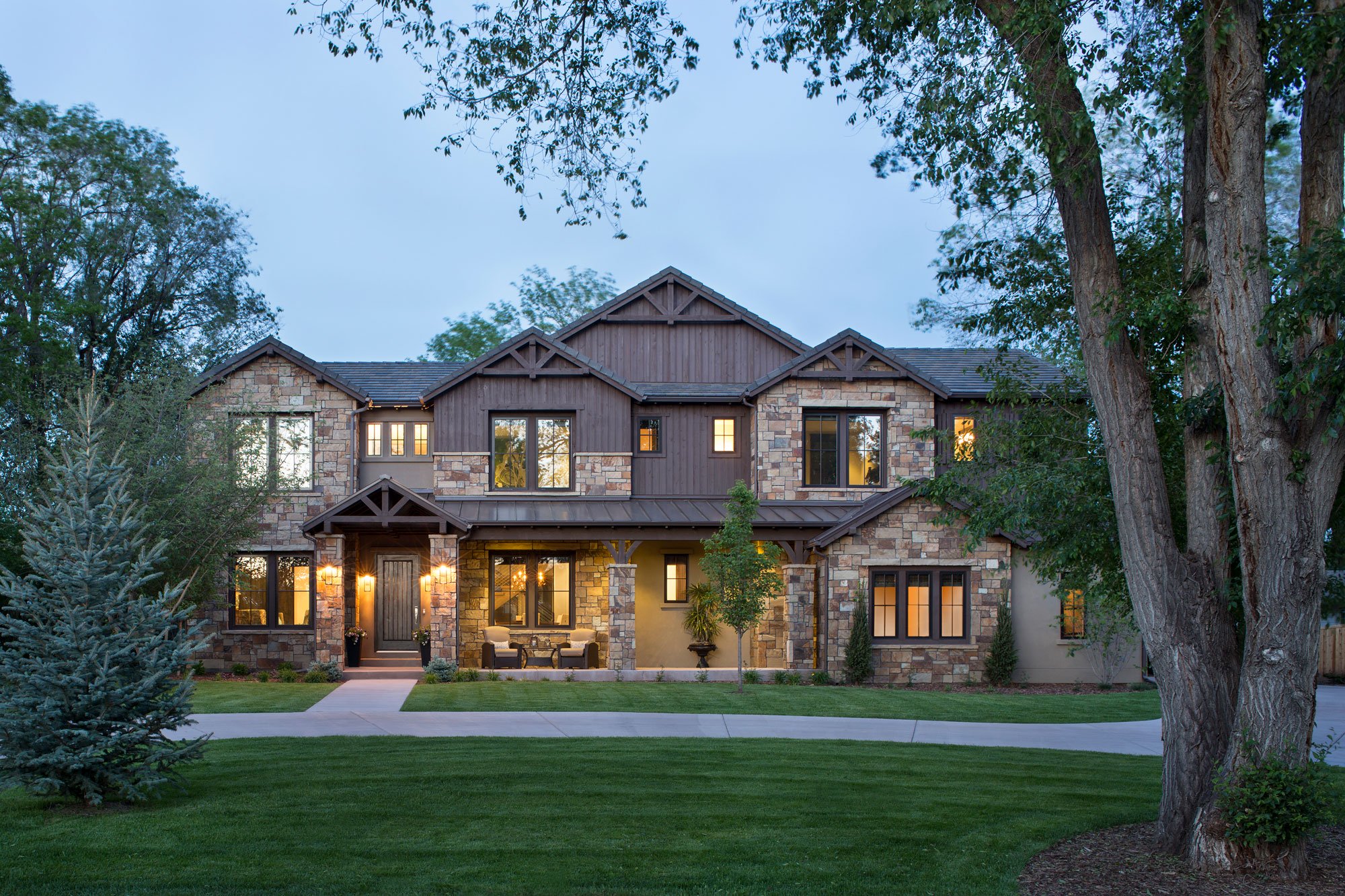 For over 26 years, Paragon Homes has been one of the leading luxury builders in the greater Denver metro area. Their focus on infill development gives their clients unparalleled expertise to guide them throughout the entire process. They have worked with all local municipalities and have the knowledge and foresight to keep the process simple.
Paragon Homes specializes in residential development, custom homes and renovations. They pride themselves on maintaining the highest standards and as part of their noteworthy construction, they have been featured twice in the Colorado Homes and Lifestyle magazine. Ed Venerable, President and Owner of Paragon Homes, is passionate about the Rocky Mountains and specifically the Vail Valley. His family has owned a second home in the Valley since 2000 and recently relocated his family permanently here. His extensive hands-on experience is invaluable.
About the Architect - KH Webb Architects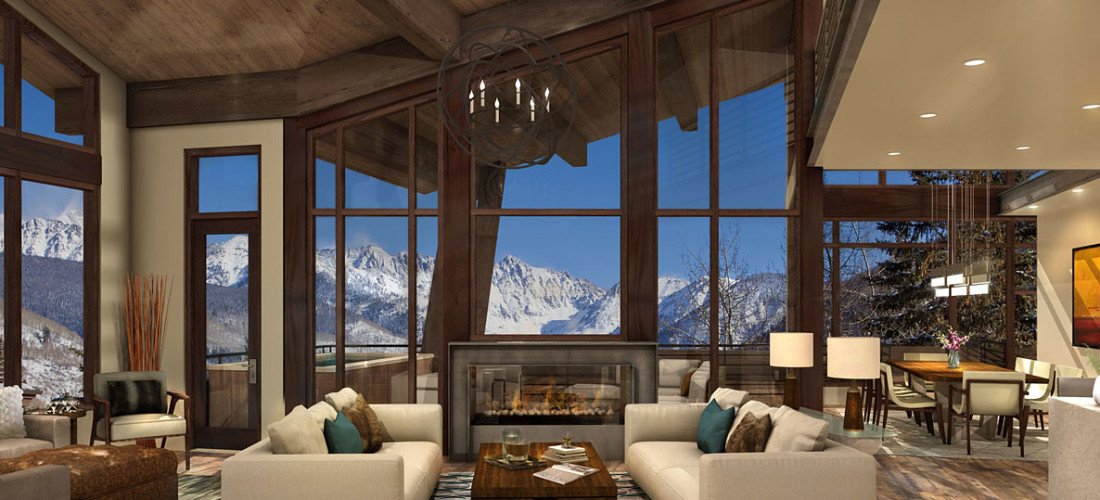 KH Webb Architects of Vail, Colorado comprises a skilled team of architects led by Kyle Webb committed to producing innovative architectural designs that characterize the environment and clients with whom KH Webb Architects works. Our awareness of and respect for the working relationship between architect and client allows us to effectively create architecture and custom homes that are both personalized and smart.
KH Webb Architects has been creating timeless architecture that leverages the unique character of rich landscape and the client's personality for more than ten years. These Vail architects boast an extensive portfolio of innovative architectural designs, many of which have gained regional and national recognition. Clients from all over the nation have engaged the KH Webb architectural team to create a home that exceeds expectations, works with their lifestyle and the land upon which it is built.
The firm has a talent for bring to life a client's vision, while incorporating natural elements and designs that create synergy. Meticulous attention to detail, consistent quality and spatial design are hallmarks of the firm's designs. From their inception KH Webb Architects has been maximizing the features of the land and local resources in an unassuming common sense way that translates into consistently incorporating sustainable design into projects.
East Vail is a beautiful area located east of Vail Village and is nestled in the White River National Forest and adjacent to the Vail Golf Course area located to the West. East Vail is well known for the big impact of the surrounding steep mountains, waterfalls, Gore Range views, and the Gore Creek that winds through the area. The Vail Racquet Club offers great community amenities with very affordable membership options to enjoy tennis, swimming, and a great workout facility. Bighorn Park is a great neighborhood meeting place with its playground, off-leash dog park, picnic tables, open field and pond. Bikers can begin their day by riding up Vail Pass or riding into Vail Village to take in the Sunday farmers market. Hikers have a choice of terrific hiking trails, from beginner to expert, the trails of Bighorn Creek, Gore Creek, Pitkin Creek and Deluge Lake provide hikers with spectacular views, stunning aspen groves, waterfalls and high alpine lakes that cannot be found anywhere else in the valley. The well-known waterfalls include one of the most renowned ice climbing locations in Colorado called "The Fang." East Vail provides outstanding recreational access for outdoor activities including road bike access to Vail Pass, incredible hiking and mountain biking trails including Deluge Creek and Booth Falls. East Vail is a popular location for locals and second homeowners alike due mainly to its unique beauty, proximity to Vail Mountain, and the fact that the Vail Mountain School is located in the area (one of the most prestigious private schools in Colorado). The close proximity to Vail Pass makes it an easy jaunt to Denver International Airport and the Greater Denver area to take in shopping, professional sporting events and other cultural events offered by the Front Range area. East Vail also has its own small convenience store and a neighborhood restaurant located in the Racquet Club.