4196 COLUMBINE DRIVE WEST
Vail, Colorado
Bedrooms 4
Bathrooms 3
Sq Ft 2,354
$2,000,000
SOLD 07/16/20 ABOVE ASKING PRICE FOR $2,100,000
This home is so charming and is situated on what is truly the best location on Gore Creek in East Vail (and maybe all of Vail). The setting is private and serene and allows you to soak up the natural beauty of Gore Creek and the Colorado mountains. This classic East Vail residence has a wood burning fireplace, a large deck overlooking the river, a remodeled kitchen and large windows that draw in natural light. The private master suite is on it's own level with a private deck and air conditioning. Enjoy unobstructed views of the White River National Forest and the sights and sounds of the creek from any room in the home. A short walk to the Town of Vail bus will get you to the slopes and Vail Village in minutes and come home to soak in your private hot tub on the creek. It is incredible to find this quality a location, with heated driveways and a 2-car garage for 2 million dollars in Vail. Oh life is so good when you own a home like this. But get ready to embrace remote working long-term as you won't ever want to leave.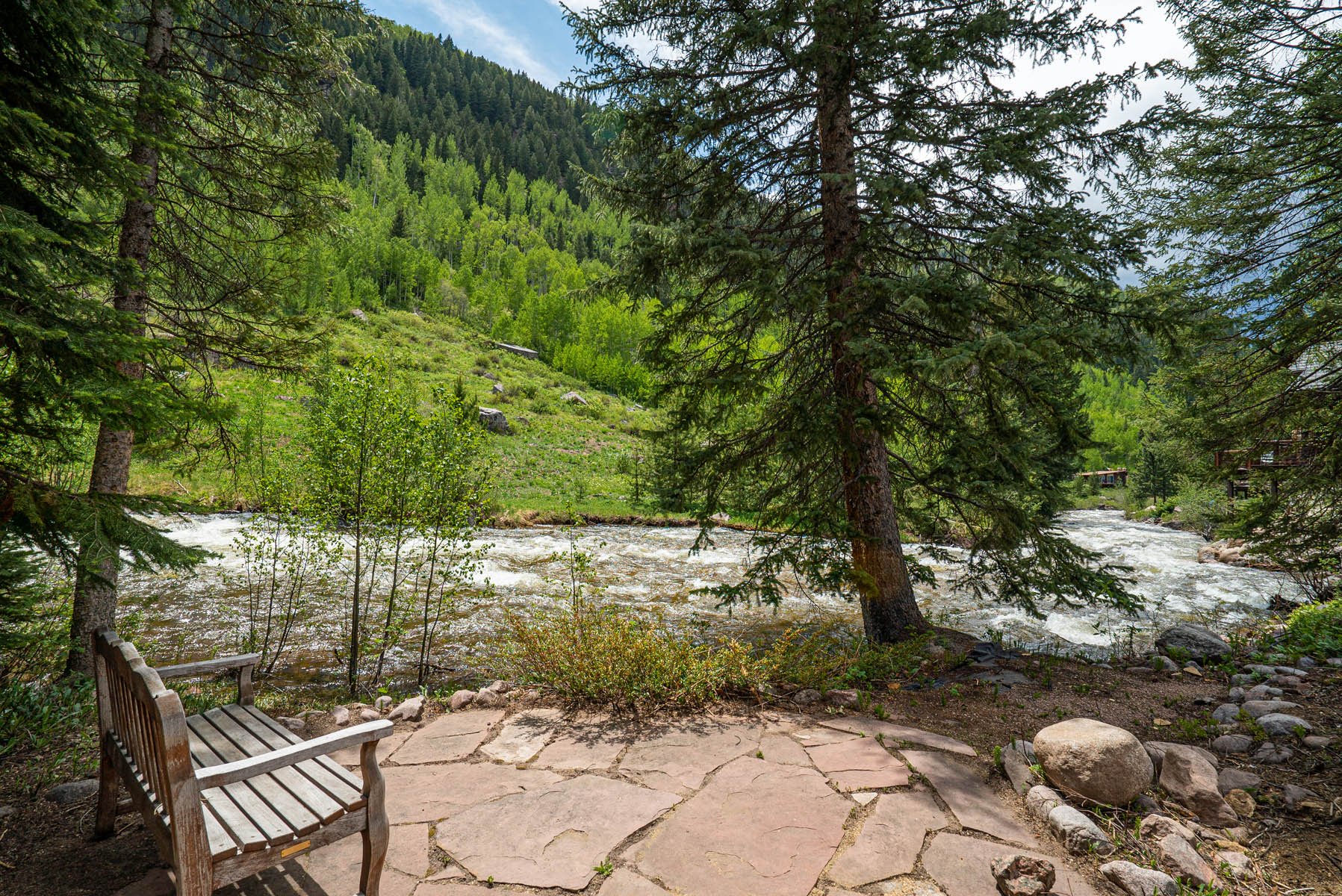 Massive deck & master balcony overlooking Gore Creek
Located on the Town of Vail free shuttle route
Separate master bedroom from downstairs bedrooms
Hot tub
Sold furnished
East Vail is a beautiful area located east of Vail Village and is nestled in the White River National Forest and adjacent to the Vail Golf Course area located to the West. East Vail is well known for the big impact of the surrounding steep mountains, waterfalls, Gore Range views, and the Gore Creek that winds through the area. The Vail Racquet Club offers great community amenities with very affordable membership options to enjoy tennis, swimming, and a great workout facility. Bighorn Park is a great neighborhood meeting place with its playground, off-leash dog park, picnic tables, open field and pond. Bikers can begin their day by riding up Vail Pass or riding into Vail Village to take in the Sunday farmers market. Hikers have a choice of terrific hiking trails, from beginner to expert, the trails of Bighorn Creek, Gore Creek, Pitkin Creek and Deluge Lake provide hikers with spectacular views, stunning aspen groves, waterfalls and high alpine lakes that cannot be found anywhere else in the valley. The well-known waterfalls include one of the most renowned ice climbing locations in Colorado called "The Fang." East Vail provides outstanding recreational access for outdoor activities including road bike access to Vail Pass, incredible hiking and mountain biking trails including Deluge Creek and Booth Falls. East Vail is a popular location for locals and second homeowners alike due mainly to its unique beauty, proximity to Vail Mountain, and the fact that the Vail Mountain School is located in the area (one of the most prestigious private schools in Colorado). The close proximity to Vail Pass makes it an easy jaunt to Denver International Airport and the Greater Denver area to take in shopping, professional sporting events and other cultural events offered by the Front Range area. East Vail also has its own small convenience store and a neighborhood restaurant located in the Racquet Club.